In April 2004, I set out on a mini-sabbatical to Ireland, the birthplace of my great-grandparents. I was familiar with the country as I'd been there three times previously, but this time I was on a mission: to photograph the Emerald Isle in large-format digital infrared. It was to be my adventure in IR-land, a double entendre for my surreal walk through the countryside.
One issue with photographing Ireland in color is that it's so beautiful and green that almost everything you shoot looks like a postcard. Ironically, Ireland is difficult to shoot precisely because of its magnificence and greenness. As a photographer, I'm trying to capture an edgier, more surreal look with my art. This is facilitated by using infrared — it immediately changes the imagery in unpredictable ways.
Why Infrared?
We can't see infrared, so it's impossible to detect its energy or its effect on any scene. However infrared's surreal quality reveals itself almost instantaneously as soon as you set up the digital camera and laptop on location. Trees and other types of foliage are particularly good for infrared; they are alive and readily absorb heat from the sun. When that energy is released, it shows up in the image lighter than the surrounding areas. It's an effect that is both jarring and unfamiliar, and it results in a unique, mysterious beauty.
There is a trend in color photography that I call "unbelievable reality" — images so breathtakingly beautiful that there is no equivalent in our ordinary lives. (Think of Christopher Burkett's work). In contrast to this trend, I was hoping to create imagery that would be readily familiar in the sense of incorporating common everyday objects and scenery, yet that also would present a touch of out-of-the-ordinary surrealness. Infrared would be my key photographic tool for capturing that believable unreality.
As I traveled to Ireland to see what I could get in 14 days, I was accompanied by a newly acquired Better Light 6K-2 digital scan back and lightweight Linhof Standard 4 x 5. My travel plan was simply to go where the Irish winds would take me, shoot images during the daylight hours, eat dinner after twilight, then retire to a bed-and-breakfast or a hotel to download the day's work onto DVD-R discs, clear my laptop's hard drive, sleep, and do it all over again the next day...I was, however, in for a few challenges.
Challenges in Ireland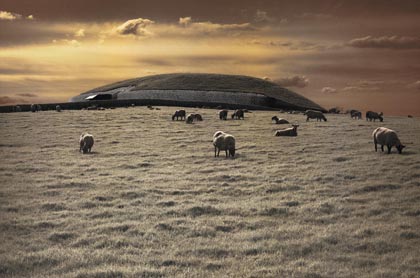 First of all, the groundglass to my Linhof view camera broke into shards while in transit. As a result, my first few shots were done entirely without the groundglass. I had to estimate my focus depending on which lens I was using, then I used the Better Light capture software on my attached laptop to dynamically refine the focus in real time. Thank goodness it worked... first challenge handled.
The next issue was the fickle weather, which always plays a major role in any Ireland-based story. The incessant gusts of mischievous winds were especially tricky. Using the digital scan back is similar to taking pictures in the 19th century — things need to stay still for two minutes or more. This is because each line of pixels is captured separately. You can imagine it as approximately 8,000 one-pixel-wide line exposures captured every 60th of a second, resulting in fabulously detailed images that can easily be enlarged to 30" by 40."
Scan times, however, are measured in minutes rather than seconds or fractions of seconds. And minutes in Ireland might as well be an eternity. The light changed constantly, and the wind rattled my camera and blew the subject matter around. One particularly nasty gust actually blew the camera and tripod over.
To produce one presentable final image I often had to capture a dozen or more images from the same vantage point, which would later need to be carefully and artfully combined in the digital darkroom. Of the 40 images I shot in 14 days of nearly constant wind and rain, 20 met my critical artistic vision.
Finally, on the last day, I awoke in County Meath to a pleasant surprise: a perfectly blue sky and calm, barely noticeable wind. Excitedly I got my equipment together and drove down the street to a 5,000-year-old megalith tomb known as Dowth. Standing in the fresh dew, I composed my first shot. Then, enjoying the luxury of not having to worry about rapidly changing light nor the wind blowing me and my equipment to pieces, I set up a few feet away to compose my second shot.
Leaning over to pick up a lens, my back suddenly went out on me — the result of an old injury. Through sheer willpower, I composed and shot what would be my final image. It wasn't even 8 a.m. With the utmost care, I packed my gear and drove to a local massage therapist. Afterward, I took several Advils, arranged for DHL to pick up my gear and sadly drove back to the Dublin airport on the most gorgeous day I've ever seen in Ireland.
I guess the Irish gods had their own plans for me that day. But I walked away with a portfolio of images of which I am very proud.
IR-land Comes to Life

Fortunately, it turned out that at least the challenging weather had a wonderful upside. The dark skies and overall quality of the light were far more dramatic than lovely weather would have been. I learned to seek out scenes with light that the infrared would emphasize, which was an entirely new way of "seeing" for me.
I decided to take images two different ways. I would shoot an infrared image first. Then, if I felt the image would be enhanced by combining it with a normal-color image, I would shoot that second image in "real color" and use software to combine the two. I was eager to experiment with this in my digital darkroom, and quite a few of my final images incorporated that technique. Ansel Adams regarded the negative as the score and the print as the performance. I have always taken that to heart in my work: Half the work is in taking the picture, while the other half lies in the darkroom. A photographer's job is not done until he or she stretches, pulls, darkens and lightens to make the perfect print. I'm sure that if anyone would've used software tools like Photoshop, it would have been the master of the Zone System himself.
Consequently, I spend an enormous amount of digital darkroom time on every image — I'll easily put in 8 hours or more on one picture. I may create multiple versions of it, but I will choose just one. There will be one final image that will meet the public eye.
The Better Light was a wonderful tool for this project. I'd never used a digital scan back prior to January 2004 — I shot 100-percent film — I purchased it for mostly for copying my wife's pastel paintings. It dawned on me that it could be use for my outdoor photography and that it could take me to a place that film could not go.
I am also thoroughly impressed with the exquisite beauty of infrared imagery, particularly those images that are combined with a natural-light complement. My "Adventures in IR-land" images are now part of a growing body of work, and these adventures will continue. To test the public's reaction, I have entered two of the images in juried art shows in Massachusetts, and one of them recently won first prize.
So far, 14 of the 20 images are printed, but I don't have any immediate plans for showing them. Ultimately I would like to present all of the images together in an interesting gallery setting, but at the moment I am being very careful and protective. A darkroom setting is very contemplative... very Zen-like... and the picture becomes your child. Some don't work out, so you don't invest further time in them, but others evolve in unexpected ways right in front of your eyes. You become devoted to those images. You work at night after dinner, and you stay up until midnight. It's very dark and intense, but it's so artistically rewarding. The "Adventures in IR-land" images have given me that experience.
I am looking forward to further developing this infrared technique in New Mexico. My wife Liz and I love the desert Southwest as much as we love Ireland. While one is green and wet and the other is dry and brown, we gravitate to their shared similarities: they are both rural, remote and rugged, and you can't get away from the weather. You are really in touch with the environment in those places — you can't miss it. It's in your face.
All photographers have patience. But for me, it's not the "I can stand this" kind of patience. Rather, it comes from having passion for what I do. While I was pursuing a particular image in Ireland, the light wasn't quite right, so I sat there for three hours waiting for it to be right...Not a problem.
Equipment Used:
• Better Light 6K-2 Digital Insert
• Viewfinder 5.0b30 Capture Software
• Better Light Portability Option
• Photoshop 7.0
• Windows XP Laptop
• External Sony DVD-R Drive
• Valence N-Charge Spare Battery
• Gitzo 1348 Carbon Fiber Tripod
• Arca Swiss BI Ballhead
• Linhof Standard 4 x 5 Camera
• Various Schneider, Rodenstock & Nikkor Lenses from 75 mm to 500 mm
• Macintosh Dual 1GHz G4 workstation
• Final Prints: Epson 9600 with Ultrachrome Inks on Epson Enhanced Matte
About the Author:
J Michael Sullivan has been a professional photographer since 1977, when he worked in the advertising industry. More recently, he was a contributing editor to HOW magazine and a frequent lecturer at both Macworld and the Seybold Seminars. He is also the author of How to Make Your Scanner a Great Design & Production Tool, printed by Northlight Press.Today he runs The Printwright Studio, a digital printmaking studio that allows artists to create digital editions of their artwork. He lives in Marshfield Hills, Massachusetts, with his wife Liz, who is a nationally recognized pastel artist.Images from this project won 3rd place in the 2004 International Photographer of the Year Awards (http://www.photoawards.com/04/contests/2004winners.asp).J Michael Sullivan can be reached at michael@haywood-sullivan.com. An online gallery of his work is available at www.haywood-sullivan.com/photography.