Hey, Mon, you want to tour the tropics without leaving home? Check out the Bahamas Island Hop Tour at www.bahamas.com. The 56 MB downloadable tour, packed with 22 panoramic views and 22 videos, was photographed by Minneapolis photographer Mark LaFavor of LaFavor Pictures, using 360° seamless Better Light /Panoscan technology.
Better Light provides the electronics and software for the Panoscan MK2 digital panoramic camera, combining a Better Light digital scanning system, Mamiya lenses, and a motorized camera body designed by Panoscan into a single unit that mounts directly onto a tripod. Michael Collette,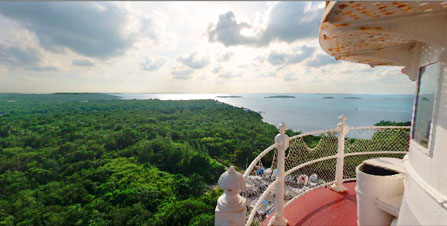 Better Light president, explains: "Photographers using a Better Light scan back and our proprietary panoramic adapter have the versatility of shooting flat shots and then switching quickly to panoramic; the important advantage of the Panoscan is that while you get strictly panoramic shots, their system offers some terrific functions beyond what we can deliver."
Panoscan owner Ted Chavalas continues, "One primary difference between a 4x5 setup and the Panoscan is that our unit is designed to work with wide angle fisheye and super-wide 35mm lenses, which are more light sensitive, with apertures of f2.8 and wider." The Panoscan's resolution is also phenomenal. "I've made scans at over 585 megapixels," Chavalas said, "but with the right lens and setting, you can go over 1,000."
A Minneapolis advertising agency set up the Bahamas Ministry of Tourism gig. In October, 2004, LaFavor shot for 23 days straight on 16 islands. "The Bahamas Ministry of Tourism gave us sites of interest, such as specific landmarks or resorts, but the art director and I planned each shot for the time of day and weather." Humidity was high, adding to the challenge. "Our first day, the humidity was 90%," LaFavor says. "The lens fogged because the camera spent the night in an air conditioned room, after that we had to keep the gear acclimated to the ambient temp and humidity to keep it from fogging up again." LaFavor shot the Bahamas Island Hop Tour with the newest model Panoscan, the Mark II (MK2), using a 24mm Mamiya fisheye lens for the majority of his work.
"It was a substantial project for us," he says, "and I got the job based on the nature of the camera more than for my particular specialty." LaFavor normally specializes in shooting 360° interiors for car manufacturers and finds that the Panoscan fits into spaces a 4x5 can't go. "The unit weighs nine pounds," Chavalas says, "and although we can—and probably will, for some applications—make the Panoscan lighter, its weight helps stabilize it and smooth out vibration. And our swing radius is less than six inches, which is critical for tight spots." Chavalas notes that with a fisheye lens, the Panoscan has the advantage of looking straight overhead and down in the same panoramic shot.
Its single-unit construction makes the Panoscan especially hardy and nearly impervious to the elements. LaFavor says of his Bahamas adventure, "Shooting right on the beach, the Panoscan got blasted with salt spray, but I didn't have a single failure. At the end of the trip, I sent the unit back to Ted and it checked out fine. While we may not have had the ideal environment for shooting,

I was extremely pleased with the results. Most important, the Bahamas Ministry of Tourism was very pleased as well."
They have the panoramas posted as QuickTime movies to allow the visitor to watch a slow scan of the location, or use their mouse to move around and zoom into the image as they wish. Log on to www.bahamas.com — you can almost feel the salt spray.
Better Light scanning back hardware and software are used in diverse applications for commercial, advertising, art reproduction, industrial and scientific photography. For more information, contact Better Light, Inc., 1200 Industrial Rd., Unit 17, San Carlos, CA 94070-4129; (650) 631-3680; www.betterlight.com.
For information about Panoscan panoramic technology, contact Panoscan, 5632 Van Nuys Blvd., #150, Van Nuys, CA 91401-4600; (818) 908-4641; info@panoscan.com; www.panoscan.com.